its almost valentines day. yep. another day on the hallmark calendar but i can't help but notice a little extra love in the air this time.
Might i just say that L.O.V.E is coming to town. thats right, mister mayer hawthorne will be in the country for some special shows thanks to niche productions. Could he have strategically come to us for the month of all things love???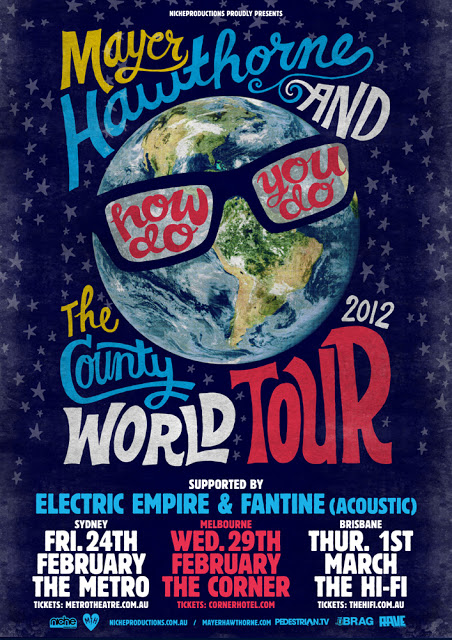 niche productions says this -
How Do You Do? Asks Mayer Hawthorne on his brand new album and in February 2012, he returns with his band to Australia to find out! No stranger to Australian shores, he's been a mainstay since January 2010, spreading the sunshine vibes of LA whilst maintaining the spirit of his hometown Detroit (arguably the birthplace of modern Soul Music) and this February How Do You Do? comes Down Under to make for some very special arrangements.
Mayer Hawthorne, the crooner from Stones Throw records has just made the jump to Universal Music for his second album entitled 'How Do You Do?' His debut LP 'A Strange Arrangement' lit a fire across the world for its faithful interpretation of classic genres like Soul, Blues, Country, Doo-Wop and Rock n Roll. Earlier in 2011 he released a free EP of covers including works originally by Chromeo (who have also remixed current single 'A Long Time'), Isley Brothers, ELO and more.
With his live band Mayer Hawthorne ignites stages with a cracking live show that has already swept Australian audiences off their feet twice including sold out performances at Prince of Wales, Manning Bar, The Basement and festivals like Playground Weekender and Days Like This.
Recently performing his new single The Walk live in the last month on Late Night 's Conan and Letterman shows, Mayer Hawthorne is confirming what the underground has known for years; this singer-producer can channel the best of soul, funk, disco and yacht rock in to an inimitable 2012 blend. How Do You Do? is a far greater amalgamation of his influences (like Brian Wilson, Michael Macdonald and Marvin Gaye) than found on his popular debut A Strange Arrangement, which was released in 2009 on Stones Throw Records and spawned the incredibly popular heart shaped vinyl single Just Ain't Gonna Work Out.
Immediately familiar but with a fresh twist, Mayer Hawthorne and his gorgeous band light it up across Australia joining Erykah Badu and Fat Freddy's Drop in what is easily Summer's greatest lineup over in Perth and making his Brisbane debut, whilst taking on a range of new venues in cities he is already cherished in.